This page is no longer updated.
Check out Barney's latest adventures on quick-flick.com. Visit his new pages by clicking below:
Click HERE for Barney's Latest Adventures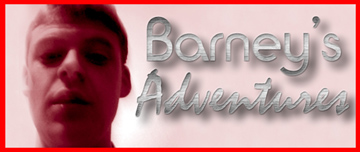 AN INTRODUCTION
by Jonny Porter
This is David Jewhurst, known as Barney. He is a 24 year old guy from Northern Ireland. He grew up in Ballygowan and moved to Saintfield where he became part of the Scouting community like most of the quick-flick team. Barney has always wanted a career in aerospace and he's working damn hard to get it. He is currently training in Bournemouth to work in Air Traffic Control. This guy knows a thing or two about planes. He also likes to get his point across. Not afraid to have lengthy chats with strangers he is very friendly and approachable and has earned other nicknames such as 'Smiley Dave' and 'Bouncy'. Famous catchphrases are 'Hello, how are you sir?', 'I'll fix it!' and 'Cheerso' (which was allegedly stolen from another source). Follow his exploits both in Bournemouth and here in Northern Ireland, only on quick-flick...
TALESPIN
It's 'plane' to see that Mr Jewhurst is having a good time with his course. Here's what Barney has to say on his recent experiences. You can contact him via e-mail addresses below.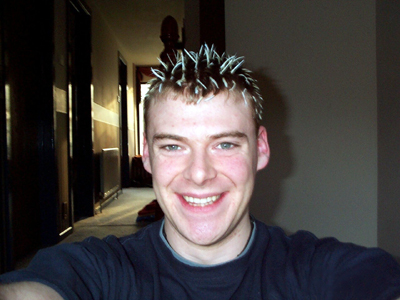 Hello again everybody. After much badgering, from Jonny, I have finally got around to updating my page with all the new adventures I'm about to embark on. I have now fininshed my 5 week stint in Aldergrove International as a trainee Aerodrome controller and all aircraft are still safe and in one piece. I'll take this oportunity to say "Ta muchly" to all the guys at A- watch who put up with me during my time there.

The next stage of my adventures will take place in Prestwick, Scotland, where I will see what an Air Traffic Area Control Centre is all about. I'll be hanging around there for 5 weeks and then hopefully off to fly around Europe with British Airways for a week. - fun fun fun!

If anyone knows any good places to stay in Pestwick I'd appreciate the info, until the next update then -probably in another 6 months- take care of yourselves, cheerio.

Anyway, anyone looking any information or wanting to get in touch just drop me a line either here: barney@quick-flick.org.uk or djewhurst@utvinternet.co.uk
UK GOLD: Well done to Barney on receiving his Gold Duke of Edinburgh Award
Some useful links from Barney:
NATS - National Air Traffic Services (UK)
The 'Cardiff Wales Flying Club'