By Bryan Knox
Friends, Romans, Countrymen, lend me your beers! Welcome to the best page on quick-flick BY FAR! (apart from my other pages of course)
Brand new extreme sport in my 'extreme Bry' section, so when you're finished here, hop to it and click on my other pages! Keep up to date with Chamonix details on quick-flick, lots of exciting material to come. Any (constructive) comments to:
bryan@quick-flick.org.uk
Picture by Andy Birrell
Bryan munches on some grub during his Chamonix trip, spot the JACKSON SPORTS bag bottom left!
Picture by Bryan Knox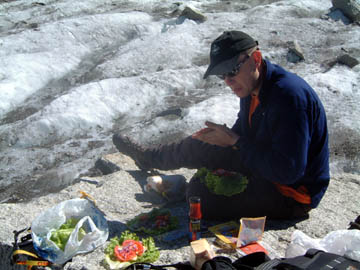 IN COLOUR: Birrell tucks into lunch
ABOVE: Bryan at Mer de Glace, a Glacier in the Alps approx. 2000M. Having a Big Sandwich: -chili sauce, onion, lettuce, cheese (the bakery was closed and because of this Bryan and Birrell had to wrap the sandwich in lettuce leaves). Even though this was delicious, it was NOT very filling!!! Anyone going to Chamonix note, BAKERIES ARE CLOSED ON WEDNESDAYS!! Below him is Birrell making up similar sandwiches.
Picture by Andy Birrell
LOOK HERE: Bryan prepares to go into the cold
ABOVE: Bryan freezing his bollocks off on top of the Aiguille du Midi Approx. 4000M
Caught by surprise this seriously wasn't posed (unlike many other quick-flick pictures).
BELOW: In the Grotte de Mer de Glace, the tacky tourist ice cave, where a fat Canadian tourist slipped onto her arse (5 1/2 on the Richter scale). Unfortunately no pics or footage of this!
Picture by Andy Birrell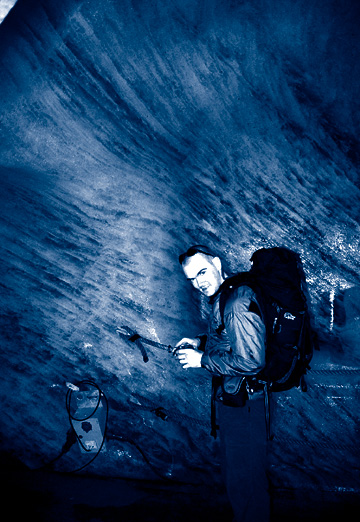 BLUE MONDAY: Bryan inside an icy lair
Picture by Andy Birrell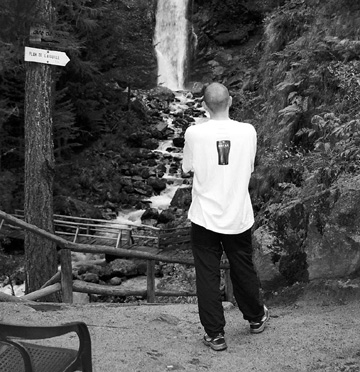 Bryan turns his back on Any Birrell to show off his special quick-flick Guinness T-Shirt
ABOVE AND BELOW: Bryan surveying the Cascade D'Ard. And thanks to Bryan for facing the elements (harsh rain) for this product placement!!
Picture by Andy Birrell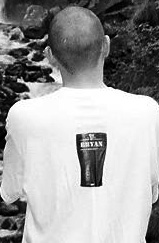 A close-up of the T-Shirt
Bryan is shown here during his Chamonix trip, with thanks to both Andy Birrell and Bryan Knox for the pictures.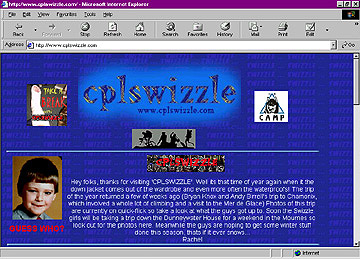 Click on the image above, of cplswizzle's home page for more pictures of Bryan in their 'Bryzone' section.
Captions by Jonny Porter
quick-flick © 1996-2003 Jonny Porter. All rights reserved.